Customer Reviews
10/04/2021
corinne f.

United States
I recommend this product
Looks great!
High quality, fast shipping.
09/19/2021
LaToshia L.

United States
09/09/2021
Amanda H.

United States
I recommend this product
Absolutely amazing
My fiancé and I did the try on pack, it was so easy and came with a finger size guide which was great cause we definitely ordered the wrong size. But when he tried this one on his face lit up! wow he is over the moon and it was such an easy process! Would recommend to anyone
05/10/2021
Paris C.

United States
I recommend this product
Great experience! Easy process!
I was searching online for companies that did the "trial at home" method since I wasn't sure what size ring would look best and if I wanted the 8 mm or 6 mm band size. After selecting 5 of my favorite ring sizes, I was happy to receive my trial box in the mail. The whole process was super easy and simply to use. Will be returning my trial and purchasing a ring from them! They also have the best selection of rings that you can try at home compared to other companies.
01/27/2021
Ashley C.

United States
I recommend this product
So simple!!
Wow! I was so excited to find this company. I know it was going to be hard to get my fiancé into a jewelry store, but the convenience this company provided was absolutely amazing! He picked the ring in a single day and absolutely loves it. Thank you so much for your excellent product/service!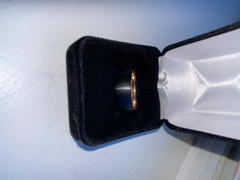 11/09/2020
Alexander C.

United States
I recommend this product
Good Quality
Good quality ring, especially for the price. Ring has a good weight and is comfortable, and the wife likes the way it looks. Took approx. 3 weeks to receive once ordered, did not receive a shipping notice.
09/27/2020
Ashton S.

United States
I recommend this product
Love It
Has a great weight and quality feel to it!
09/06/2020
Ruby L.

United States
I recommend this product
Easy shopping experience
This was a good experience. Awesome to have the bands shipped home to try on with the label to send back. The customer service team was responsive quickly via email with questions I had.
08/12/2020
Alyssa M.

United States
I recommend this product
Beautiful Ring | Great Quality
From start to finish, I was very impressed with Hitched. You can't beat the convenience of doing wedding band shopping from home, especially in our COVID world. Hitched offers many ring options, and my husband was able to find a Tungsten one that he loved. Definitely recommend!
08/09/2020
Jessica W.

United States
I recommend this product
Amazing Quality
Hitched makes shopping and buying of rings so simple. My husband was not a fan of the cheesy retail shops but loved the try-on experience at home. I highly recommend!
08/04/2020
Danie S.

United States
I recommend this product
Absolutely Perfect
The customer service was amazing, the shipping was fast and the ring is amazing. It's such nice quality and overall just perfect. Perfect experience. Thanks Hitched!
08/03/2020
Morgan M.

United States
I recommend this product
My husband loves his band
My hubby loves his new band!
07/28/2020
Anonymous

United States
I recommend this product
Wrong size
I bought the wrong size and I emailed and a new one is being sent. No hassle at all definitely would recommend.
02/26/2020
Josh

United States
Pleasant, Easy Experience
Made an appointment to try bands at the storefront on 2nd St. I informed Stephanie on the style and band thickness I was interested in trying on. After sizing my finger she produced a box with my options and left us be to try on the bands and pick what I wanted. All in all, it took about a half hour to decide on the band I wanted, fortunately they had the style/size I selected in the safe and we were able to walk out that morning with my ring. I had done a bit of research prior to scheduling the appointment and they did not disappoint in selection, quality and price. There's an overt amount of complexity in the planning process, any step made easier is a net positive in my book. I have no hesitation in recommending hitched to others in the market.
I recommend this product
Easy Breezy wedding ring shopping
Loved being able to select a handful of rings to try-on at home. The rings came fast and with very nice presentation. Once I made my choice and returned them, the rest was a breeze. It's so nice that your deposit goes toward your purchase and that the final ring is shipped out very quickly! It was an added touch to have a congratulations card waiting for us when we returned from our honeymoon!
I recommend this product
Best Wedding Ring Experience. EASY EASY EASY
Easily browsed inventory and selected rings to try on then they were quickly shipped to my home for my convenience. They had a good selection to choose from, a nice variety of different metals and designs. It was easy to size myself and see how each ring would look on my hand. Returning was very simple and when I had trouble with ordering my ring they were prompt and helpful in their reply. I couldn't ask for a better experience.
More Items We Think You'll Love